Date posted: Author: Lighthouse Disability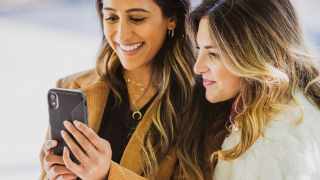 CareApp is coming soon
We will soon be launching our new communication platform CareApp with clients, families, guardians and staff. The introduction of CareApp is a result of an action from the Client and Family Engagement Framework. This Framework was developed by Dana Shen as part of her report "Co-designing a client and family engagement approach: Final Report".

CareApp connects families and guardians through photos, videos, events, newsletters, notices and more in real time. Through CareApp our families and guardians will be informed and kept up to date on daily activities, wellbeing and any news and events happening at the house.

In the coming week you will receive a registration link with instructions on how to register and download the app. It's easy to use, free and is a great tool to keep connected with what's going on. To find out more click on the link below.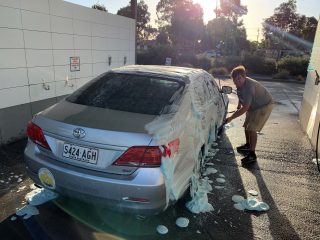 At the Car Wash
As a real motor head, Jake takes great pride in driving around in a pristine looking vehicle and frequently stops in at his local Hollywood Car Wash to make sure the service car looks its best. Keep up the clean work Jake!
Plan visits to accessible venues and events with the new app Pavely
The Department of Human Services have recently launched 'Pavely', a uniquely South Australian smartphone app designed to promote social inclusion and assist people with accessibility needs.
Developed in collaboration with people living with disability, the Department for Innovation and Skills, Department of Treasury and Finance, Go2Gov program start-up 'The Moonshine Lab', Pavely is used to find, rate and review inclusive venues in South Australia.
The app provides a directory of venues and facilities across the state and allows users to search based on accessibility ratings and inclusive features such as the venue's entrance, amenities, parking and options for assistance, vision and sensory needs. To discover more information about the ground-breaking app and how to download it, visit the Pavely website below.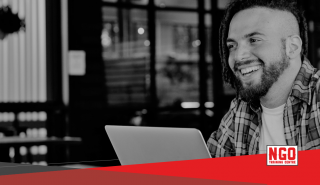 New online training platform for staff
We are excited to announce that we'll be launching a new online learning platform with the NGO Training Centre in early July. This is in response to our CSW requests for access to additional training and development, as well as the challenge of providing training in the middle of a pandemic.
This new platform will be available to all our staff and will transform the way we offer training to support them in their day-to-day role. It provides access to the most up-to-date training by industry experts and will contribute to their professional development journey. To find out more about NGO Training Centre and our new online platform click on the link below.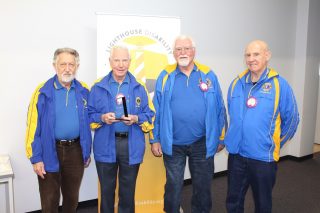 Thank you to our volunteers
On Thursday 19 May, as part of National Volunteer Week we recognised some of our 39 amazing volunteers at a special morning tea. Every day, our volunteers dedicate their time to make meaningful connections with our clients and geniunely make a real difference. A big thank you to all our volunteers for all that you do.
As part of the event, we also made a special presentation to the Tea Tree Gully Lions Club, who have been providing support for our events including the Annual Picnic, Christmas Breakfast and Boom Box Disco for many years. In recognition of our partnership, we presented them with an Award of Appreciation for over 10 years of support. While saying their thanks for the award, the Lions Club continued their genorosity by providing us with a cheque for $1000 for our Seize the Day project. Thank you Tea Tree Gully Lions Club for your ongoing support - it is greatly appreciated by our clients, families, guardians and staff.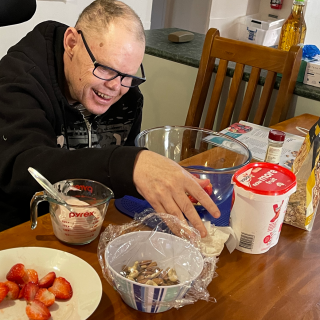 Now for something really a-museli-ng
While this post isn't our most a-muesli-ng, we're still pretty excited to share it. Simon is known to be a great muesli maker and includes the perfect amount of fresh fruit, yoghurt and nuts. Any muesli left for us Simon?
Active Support Training
In late June/early July 2022 we will commence the delivery of Active Support Training to all our Community Support Workers. This training will prepare our staff to actively look for opportunities to engage clients in daily activities and new experiences.
This is the first step in our plan of having Active Support Leads in each of our houses. From this training, we will be able to recognise those who excel and identify them as a potential candidate for an Active Support Lead role.
Seize the Day Update
We are very excited to announce that 24 clients have applied to be part of the Seize the Day project. Together with the Consumer Reference Group, we will review all the applications and determine how we many people we can support to try a new experience. You can find out more about the Seize the Day project by clicking the link below.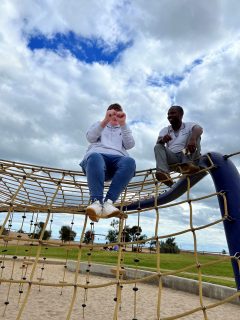 Swinging and Sliding at St. Kilda
Playgrounds can be enjoyed at any age. The St Kilda Adventure Playground has always been one of Adelaide's most popular playgrounds, but did you know it has a few new bits of accessible play equipment? Recently we headed out to St. Kilda to check out what was new and enjoy the latest equipment.
Manager, Service Delivery Recruitment Update
We are pleased to share with you the recruitment of a new Manager, Service Delivery – Jimmy Domenic. Jimmy has over 14 years' experience in community services, with the last 4 years at Life Without Barriers in Port Augusta leading their Supported Independent Living team.
He has a passion for ensuring people receive the best possible support that is person-centred and strengths-based. Jimmy will be joining us on 20 June and will be mentored by our existing MSDs to ensure a smooth transition into the Lighthouse Disability team. Please join me in welcoming Jimmy.
The role of MSD is incredibly important to the organisation and while the applicants we received were all of a high standard, we have decided to advertise for the role again to ensure we find the right people for the role. We will keep you updated on how the recruitment of further MSDs goes.
80s and 90s Boom Box Disco
A few weeks ago we rolled back the years with our 80s and 90s Boom Box Disco. It was a none-stop party with some of the biggest hits of the era including George Michael, B-52's, Spice Girls, Frankie Goes To Hollywood and loads more. To check out some of the photos from the night click on the link below.