Our Patron
Her Excellency the Honourable Frances Adamson AC is the patron of Lighthouse Disability.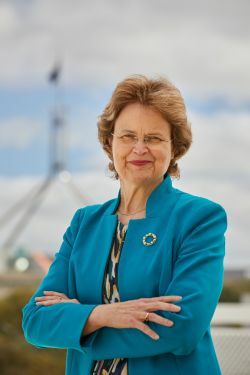 Her Excellency the Honourable Frances Adamson AC
Patron
Her Excellency the Honourable Frances Adamson AC is a proud sixth-generation South Australian - her mother, the Honourable Jennifer Cashmore AM, was a South Australian parliamentarian and her late father, Ian, was a manager at Hills Industries. Her late step‑father, Stewart Cockburn AM, was a distinguished Walkley award winning journalist.
Her Excellency studied economics at the University of Adelaide, while there becoming the first female captain of the rowing club in its 103 year history, and went on to join the Commonwealth Department of Foreign Affairs in 1985. She worked in Hong Kong during the early years of China's reform and opening, eventually becoming Australia's Ambassador to China from 2011-2015.
In 2016, Her Excellency was appointed head of the Department of Foreign Affairs and Trade, pursuing Australia's interests as world powers shifted and the COVID-19 pandemic took hold. She also led the department through a period of cultural change, encouraging more women into senior ranks.
She has also been International Adviser to the Prime Minister and Chief of Staff to the Foreign Minister and Defence Minister.
In June 2021 Her Excellency was made a Companion of the Order of Australia for eminent service to public administration through the advancement of Australia's diplomatic, trade and cultural interests, particularly with the People's Republic of China and the Indo-Pacific region, to innovative foreign policy development and high level program delivery, and as the 36th Governor appointed in South Australia.
Her Excellency is married to Mr Rod Bunten, a former British diplomat and high school teacher. They have four adult children and a cavoodle, Alfie.
To find out more about Her Excellency visit governor.sa.gov.au