NDIS Price Guide
Understand how much your NDIS supports are going to cost and whether you have enough funding to pay for them.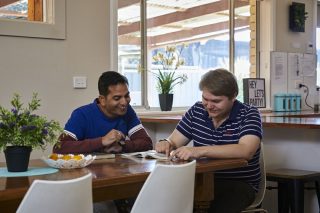 What is NDIS pricing?
One of the most important factors for NDIS participants is pricing. A participant can use their funding to buy disability-related supports and services. Pricing for services aims to be fair and reasonable.
The cost of services can vary depending on the type of service, the provider and location. Since the introduction of the scheme, the cost of services has increased. To ensure people know what they can afford, the NDIA has created the price guide, which details prices.
This guide details the maximum price for supports delivered. It also details price limits for therapy services. The guide updates every year and takes into account changes in the cost of delivering services. Participants receive a budget that outlines their funding for supports and services.
What is the difference between the NDIA and the NDIS?
The National Disability Insurance Scheme (NDIS) provides funding for people with disability. It helps people with disability to access services and support.
The National Disability Insurance Agency NDIA is the government agency that manages the NDIS. The NDIA assesses eligibility and managing the financial aspects of the NDIS.

What is a Temporary Transformational Payment?
Temporary transformation payment (TTP) is funding introduced to support disability providers. It aims to help the transition to a more flexible and sustainable model of service delivery.
Registered providers who meet certain criteria receive an extra loading.
This payment helps to offset the costs associated with changing their service model.
What are support categories?
The NDIS has three major support categories: Core, Capital, and Capacity Building supports.

Core Supports: Things that participants need to live an ordinary life. These supports meet a participant's everyday needs.
Capital Supports: Items such as assistive technology, equipment, or home modifications.
Capacity Building Supports: Things that will help a participant develop their skills.
Your plan may have funding under each of these categories. Under each category there will be specific services you can access.
How can I manage my funding?
Plan management is when you have a third party manage your funds.
A plan manager is a registered provider who manages a participant's funding. Participants who do not self-manage or agency manage their funding can have a plan manager take care of their budget.

They receive funds from the NDIS and pay the participant's service providers. Plan managers also manage participants' claims.
The NDIS has three ways of managing you funding, which are:

Agency-managed: The NDIS manage a participant's funding and pays the service providers.
Self-managed: This means that the participant manages their own funding. The participant pays their service providers and manages their own claims.
Plan-managed: This means that the participant has a plan manager who manages their funding. The plan manager pays the service providers and manages the participant's claims.
What is a service agreement?
Service agreements are between the participant and their chosen disability service provider. These agreements are a crucial aspect of the NDIS and outline the services that will be provided.
Service agreements must follow NDIS guidelines. They must detail the services' cost, duration and relevant terms and conditions.
Agreements are reviewed every year. This is to ensure that the participant receives the right services for their needs.

How do I use the guides?
The guide is an important resource for providers and participants to understand the costs of supports. Here are some steps to follow when using the document:

1) Make sure you're accessing the latest version of:
NDIS Pricing Arrangements and Price Limits
Pricing Arrangements for Specialist Disability Accommodation SDA, NDIA Assistive Technology, Home Modification and Consumables and;
Support Catalogue.
It updates every year, so make sure you have the most current version.
2) Familiarise yourself with the different sections of the guide. Each section outlines the rules and guidelines for claiming funding, as well as the rates for each support item.
3) Determine which support items are in the participant's plan, and check the relevant rates. This will help you to understand the funding allocation for each support item.
4) Be aware of any restrictions on claiming certain support items.
It is a valuable tool for understanding your funding and how to use it. Once you are familiar with the guide it can make sure you maximise your NDIS plan. If you need help to understand your plan, we recommend engaging with a plan manager.
How often do prices change?
The frequency of changes is subject to updates and revisions.
In general, prices are reviewed and updated annually or as required.
Changes can be made to account for factors such as market trends, inflation, changes in the cost of providing services, and feedback from participants and providers.
Where does it apply?
The guide is designed to be applicable nationwide within Australia.
The NDIS is a federal program implemented across the entire country, aiming to provide support and services to people with disabilities regardless of their location.
The guides purpose is to establish consistent price limits across different regions to ensure fairness and accessibility for participants across the nation.
What NDIS supports do Lighthouse Disability provide and how much do they cost?
Each of our support price are at a different frequency (or unit).
We have provided details on price, support categories, descriptions and line item numbers.
We cover our three services supported independent living, community participation and plan management.
All prices stated are effective 1 July 2023.
Core Supports
All costs will vary depending on each person's needs and circumstance. The final total price will also depend on your Roster of Care (ROC).
The below prices are an indication of the disability support worker cost model and is charged per hour as part of supported independent living.

Standard

Item No. & Description
Unit
Cost
01_801_0115_1_1
Weekday Daytime
Hour
$65.47
01_802_0115_1_1
Weekday Evening
Hour
$72.13
01_803_0115_1_1
Weekday Night
Hour
$73.46
01_804_0115_1_1
Saturday
Hour

$92.12

01_805_0115_1_1
Sunday

Hour

$118.78

01_806_0115_1_1
Public Holiday

Hour

$145.44

01_832_0115_1_1
Night-Time Sleepover
Each

$276.27



High Intensity

Item No. & Description

Unit

Cost


01_811_0115_1_1
Weekday Daytime


Hour

$70.85

01_812_0115_1_1
Weekday Evening

Hour

$78.06

01_813_0115_1_1
Weekday Night

Hour

$79.50

01_814_0115_1_1
Saturday

Hour

$99.69

01_815_0115_1_1
Sunday

Hour

$128.54

01_816_0115_1_1
Public Holiday

Hour

$157.39

01_832_0115_1_1
Passive Night -
Sleepover

Each

$276.27



Assistance with Social, Economic and Community Participation


Access Community, Social and Recreation – Standard
Item No. & Description

Unit

Cost

04_104_0125_6_1
Weekday Daytime

Hour

$65.47

04_103_0125_6_1
Weekday Evening

Hour

$72.13

04_105_0125_6_1
Saturday

Hour

$92.12

04_106_0125_6_1
Sunday

Hour

$118.78

04_102_0125_6_1
Public Holiday

Hour

$145.44

Access Community, Social and Recreation – High Intensity
Item No. & Description
Unit

Cost

04_404_0104_1_1
Weekday Daytime

Hour

$70.85

04_404_0104_1_1
Weekday Evening

Hour

$78.06

04_404_0104_1_1
Saturday

Hour

$99.69

04_404_0104_1_1
Sunday

Hour

$128.54

04_404_0104_1_1
Public Holiday

Hour

$157.39



Transport

| Item No. & Description | Unit | Cost |
| --- | --- | --- |
| Standard Vehicle | Km | $0.97 |
| Modified Vehicle | Hour | $2.76 |


Plan Management
Item Number & Description
Unit

Cost

14_033_0127_8_3
Set Up Costs

One-Off


$232.35

14_034_0127_8_3
Monthly Fee

Monthly

$104.45